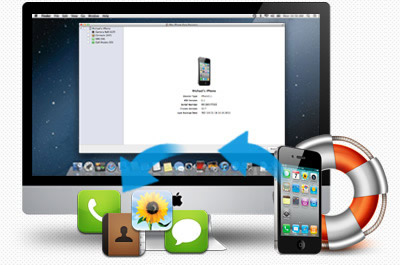 Mac iPhone Data Recovery
All-in-one iPhone data recovery that can get back photos, contacts, messages and call history you lost for iPhone styles on Mac platform. User-friendly operation and delicate features make a perfect iPhone data recovery process on Mac OS.
System requirements:
iOS Devices: iPhone, iPad, iPod touch (iTouch)
Supported OS:Mac OS X 10.6, 10.7, 10.8, 10.9, 10.9.5, 10.10
Perfectly compatible with iOS 8
Features overview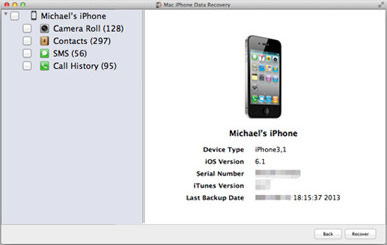 All-in-one Data Recovery for All iPhone styles

Mac iPhone Data Recovery is the world's best data recovery software for iPhone on Mac Platform.


Fantastic data recovery supports all iPhone styles, not only the popular iPhone 6 Plus, iPhone 6, iPhone 5/5s /5c, iPhone 4/4S, but also the previous ones.


Best companion for iPhone, Mac iPhone Data Recovery can benefit all iPhone users in the easiest way.
Complete Photos, Contacts, Call History and Messages Recovery for iPhone

The magic data recovery for iPhone can retrieve the lost data through Mac OS X (10.5 -10.10).


It can provide the best data recovery of photos, messages, contacts and call history of iPhone.


No matter caused by system crash, smash, upgrade, jailbreak or even broken, this smart Mac iPhone data recovery software can be get lost data back completely.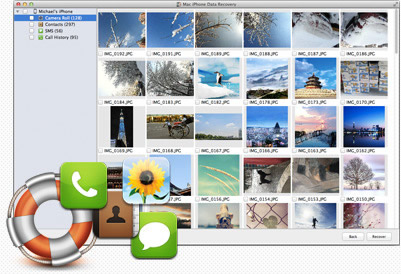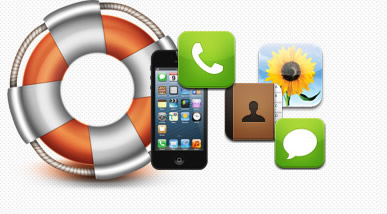 Automatically Scan and Arrange Files in Alphabetical or Chronological Order
It is one of the brilliant user-friendly features of Mac iPhone Data Recovery.


After running it, this data recovery software can automatically scan i-Device, and provide the preview of the desired data.


Arranging the files in alphabetical or chronological order, can consequently makes it convenient to look for the file you want.
Ultrafast and Easy-to-use
Ultrafast speed of data recovery leads a fluent experience.


It's safe enough to recover your lost files without writing to your original data.


With clear interface and handy operation, there are only three steps to be followed - scanning, choosing and recovering. What an easy way, isn't it?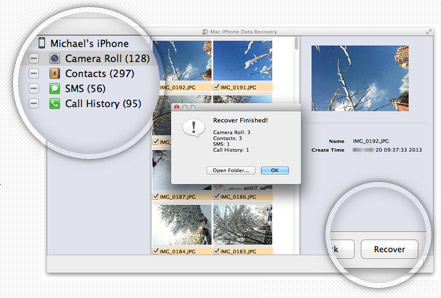 How to recover lost data of iPhone on Mac OS
Easy-to-use as Mac iPhone Data Recovery, there are only several steps.
Step One: Free download Mac iPhone Data Recovery
Directly download from
http://www.macblurayplayer.com/user/download/Mac_iPhone_Data_Recovery.dmg
and install it on your Mac platform.
Step Two: Scan the i-Device
Run the data recovery app and click on the "Start Scan" button to scan the i-Devices.
Step Three: Open the i-Device
Choose the desired i-Device to open and its specific information will be showed.
Step Four: Choose the the file(s) to recover
Select the any file or all files in Camera Roll and/or Contacts to recover.
Step Five: Recover the lost data of the i-Device
Click on "Recover" button, and it will retrieve the file(s) automatically.
For more details, please visit the Mac iPhone Data Recovery Tutorial