How to play Blu-ray on iPhone 5 directly
Blu-ray has become the winner of the media war for its large capacity and high quality. By now, Apple is still reluctant to ship with Blu-ray driver, nevertheless, you can enjoy Blu-ray HD videos on your Mac now, just via a Blu-ray driver and a Mac Blu-ray Player. But there is a growing demand of users to play Blu-ray on iPhone.
It is well-known that iPhone is the world's most advanced mobile phone which has swept the whole world for its easy-to-use interface, amazing features and rock-solid stability. However, it cannot support Blu-ray until Macgo Inc. released Mac Blu-ray Player 2 serial versions. Through its core technical innovation - AirX, you can play any Blu-ray video on your iPhone directly.
Preparations:
Hardware: Blu-ray Video/Disc, iPhone 5, Blu-ray Optical Drive, Mac Computer (or PC)
Software: Mac Blu-ray Player
Other: Internet Connection, Home WiFi Network
Step 1: Download Mac Blu-ray Player
Make sure you choose the appropriate one with your computer system and install it.
Step 2: Play Blu-ray movies
1) Enable AirX
Open Mac Blu-ray Player and enable the AirX option under the "Tools" menu before inserting Blu-ray Disc or playing Blu-ray ISO or local movies.
2) Open Blu-ray Player on Mac/PC
Click on "Open File" or "Open Disc" button to launch the Blu-ray movie. It will take a couple seconds to load the movie. When the loading is finished the screen will go black and then you can get the website URL "http://airx.tv".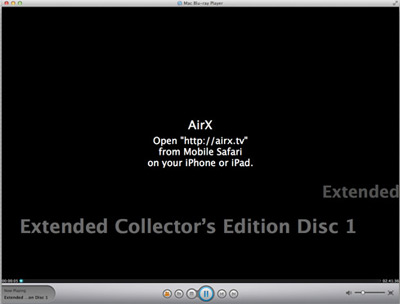 3) Play Blu-ray movies on iPhone
Open "Safari" in your iPhone and input the website URL above into it. Then the loaded Blu-ray source will be listed, you can enjoy Blu-ray movies on your iPhone then.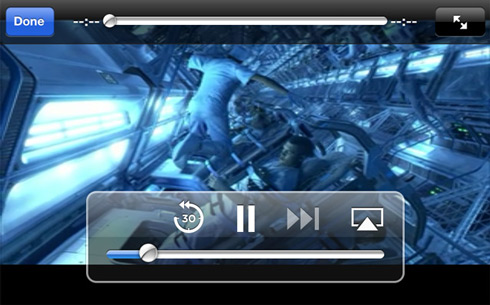 Step 3: Save as shortcut
After watching the movie, you can save the URL as a shortcut on the home screen of iPhone, so that you can open the URL directly next time. In details, you can press the save button on your iPhone and select the "Add to Home Screen" option, and then it will be saved as a shortcut on the home screen of your iPhone.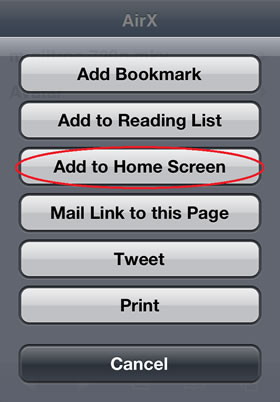 Note: If you want to enjoy Blu-ray on your iPad or iTouch, you can also refer to the way of playing Blu-ray on iPhone.