How to play Blu-ray on iPad 4 easily
As the only widely-available high-definition format for optical media, Blu-ray is capable of supporting extremely HD video effect. Although Apple is reluctant to ship with Blu-ray driver, you can also to enjoy Blu-ray HD videos on your Mac via a Blu-ray driver and a Mac Blu-ray Player. But an increasing number of users wonder if there is any possible to play Blu-ray on Pad, especially the newly-released iPad 4 (or the 4th generation iPad).
iPad 4, as the leader of tablet computers, has got lots of fans around the world. Supporting up to 1080p video, you can enjoy your HD movies on iPad 4 comfortably. But it is a pity that you can't enjoy your Blu-ray movies on iPad because of no BD drive with your device. With the release of Mac Blu-ray player 2 serial versions, this problem be solved. Its built-in "AirX" makes it possible to enjoy Blu-ray on an iPad 4 conveniently.
Requirements:
1. Mac/PC
2. iPad 4
3. Mac Blu-ray Player
4. Optical drive (internal/external with USB above 2.0)
5. Network connection: make sure that the Mac/PC and iPad are connected to the same home Wi-Fi.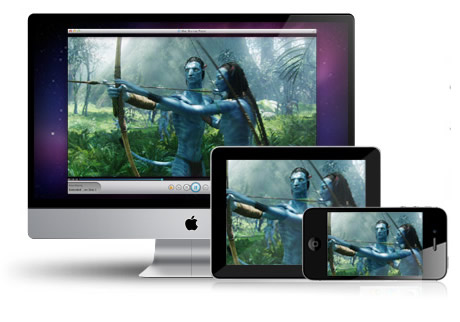 Step 1: Free download Mac Blu-ray Player
Step 2: Enable AirX
Before inserting Blu-ray disc or playing local movies, you should first enable the "AirX" option under the "Tools" menu.
Step 3: Open Blu-ray Player on Mac/PC
Click on "Open File" or "Open Disc" button to load the Blu-ray, when the loading is finished the screen will go black and then you can get the website URL "http://airx.tv".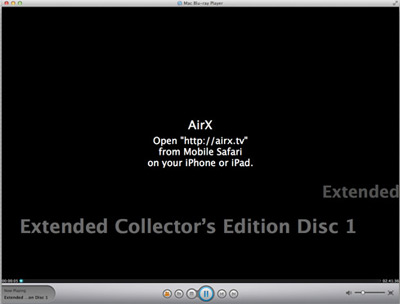 Step 4: Play Blu-ray videos on iPad 4

Open an internet explorer "Safari" in your iPad 4 and then input the URL above into it. Then the loaded Blu-ray source will be listed, you can enjoy Blu-ray movies on your iPad.
Step 5: Save
After watching the movie, you can save the URL as a shortcut on the home screen of iPad 4, so that you can open the URL directly next time. In details, you can press the save button on your iPad and select the "Add to Home Screen" option, and then it will be saved as a shortcut on the home screen of your iPad 4.
Note: Mac Blu-ray Player can play all Blu-ray sources, no matter encrypted or decrypted ones, like Blu-ray disc, Disc BD-R and BD-RE, Blu-ray ISO, and it can also decrypt any Blu-ray encryptions, such as AACS, BD-Live and BD+ (for legal use only).
You can learn more information about Blu-ray playback on iPad 4, even on iPhone and iTouch from our blog.