How to play Blu-ray on iPod touch fast and easily
You have got great fun from your Apple, haven't you? Since released, all Apple mobile devices have been prevailing all over the world. So far, there has been an increasing demand among Apple fans to enjoy Blu-ray on their amazing iPhone/iPad/iPod touch, for it is the only widely-used HD format for optical media and capable of supporting 1080p video. Therefore, Macgo Inc. released Mac Blu-ray Player 2 serial versions to solve the problem and satisfied all users. With its exclusive technology - AirX, Mac Blu-ray Player can play any Blu-ray video on iPhone/iPad/iPod touch wirelessly and ultrafast.
In terms of iPod touch, the the most advanced multi-touch display, Mac Blu-ray Player can bring a splandid Blu-ray entertainment by easy. First of all, you should make a preparation. Get a Mac & PC, a iPod touch (ISO should be 3.0 or later) and a optical drive, and make sure that the Mac/PC and iPod touch are connected to the same Wi-Fi.
Step 1:Download Mac Blu-ray Player
Then install the software.
Step 2: Play Blu-ray movies
1) Enable AirX
Open Mac Blu-ray Player and enable the AirX option under the "Tools" menu before inserting Blu-ray Disc or playing Blu-ray ISO or local movies.
2) Open Blu-ray Player on Mac/PC
Click on "Open File" or "Open Disc" button to launch the Blu-ray movie. The loading speed is ultrafast. After a couple seconds of loading, the screen will turn black and then you can get the URL "http://airx.tv".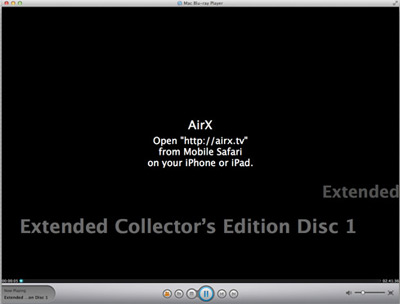 3) Play Blu-ray movies on iTouch
Open "Safari" in your iPod touch and input the URL above into it. Then the loaded Blu-ray source will be listed, you can enjoy Blu-ray movies on your iPod touch then.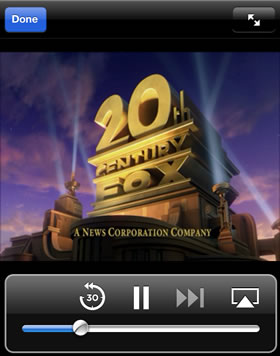 Step 3: Save as shortcut
After watching the movie, you can save the URL as a shortcut on the home screen of iPod touch, so that you can open the URL directly next time. Specifically, press the save button on your iPod touch and select the "Add to Home Screen" option, and then it will be saved as a shortcut on the home screen of your iPod touch.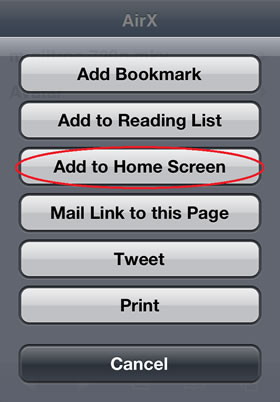 Note: Mac Blu-ray Player can play all Blu-ray sources, Blu-ray Disc, BD-ROM2, Blu-ray ISO, etc.
More information about this all-in-one Mac Blu-ray Player and Blu-ray playback on iTouch, iPod, iPhone is in the Blog

Mac Blu-ray Player
Version: V2.15.4
Size: 46.2MB
Mac OS X 10.6 - 10.11 El Capitan
$39.95 $59.95